An Addi Knitting Machine allows you to knit fabrics both in flat and in the round techniques. So there are many knitters, such as you, who love this machine because it can also create designs where flat pieces are required.
You may have already mastered the basic types of knitting stitches so you want to learn more stitch patterns you can experiment on in your Addi Knitting Machine that is why you came across this article.
If that is the case, welcome aboard because in this blog, we will be giving you our own collection of the best Addi Knitting Machine patterns that we have compiled just for you.
Where to Find Wonderful Addi Knitting Machine Patterns Any Beginner Can Follow Through?
There are actually tons of patterns out there that can help you create the most wonderful knits your Addi knitting machine can do. The friendliest advice we can give is to join or follow online groups such as those on Facebook or Instagram.
The "Closed Addi Express Groups"
For example, by simply joining and following through threads in a group called Addi King Loomers and Knits in Facebook, you can be warmly welcomed and accommodated by other Addi knitters with your questions.
These groups are usually closed and exclusive groups and you would have to fill out information forms before you can actually join. If you do get accepted in the group, you'll be overwhelmed with a lot of brilliant projects from both novice and experts.
Plus, you get to access tons of free Addi knitting machine patterns. It's a world you would want to be in especially if you truly and deeply love knitting using your Addi.
Different Patterns for Addi Express Pro and Addi Express King
Since there are two types of Addi Knitting Machine, the Addi Express Professional and Addi Express King Size, we will present five knitting projects with awesome patterns from avid knitters done with each type of machine.
There are different types of projects you can do with the smaller and bigger Addi so let's first go through each.
What Can You Make With the Addi Express Professional and Addi Express King Size Machines?
Hats and scarves are the most popular projects done with Addi Knitting machines but once you were able to master creating flat fabrics using these machines instead of circular ones then you will have endless possibilities. You can create pillow covers, sweaters, bags, toys and others so don't let your imagination limit you.
Some of the most common projects created with Addi Knitting Machines are the following:
Socks
Mittens
Cozies
Gloves
Hats
Scarves
Bonfire beanies
Sweaters
Skirts
Afghans
Knitting smaller items with an Addi Knitting machine will only take you minutes but larger ones such as sweaters will take a few hours. Since this machine has a small learning curve, you can learn many techniques such as doing limited fair isles, adding brims and borders, and ribbing.
Just to give you an idea of the difference between the Addi Express Professional and the Addi Express King Size machines and what you can do with them, below is a short comparison between the two.
Addi Express Professional Machine
Smaller machine with 22 needles.
Suitable for creating smaller pieces for toddlers and kids.
Can create circular knitted tubes of about three inches in width.
Can create larger pieces but you need to knit them in flat panels first and then join the pieces.
Addi Express King Size Machine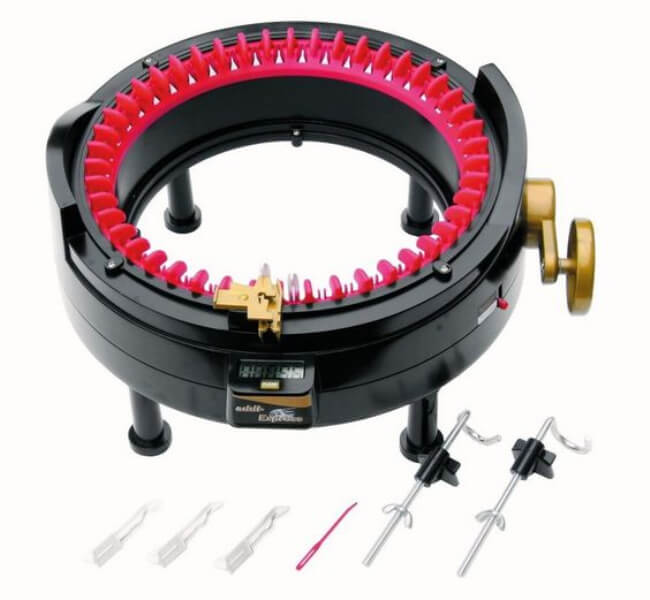 Larger machine with 46 needles so you have more options.
Suitable for creating knitted pieces for adults (hats, scarves, etc.).
Can create circular knitted tubes with about 21 inches circumference.
By the way, if you want to know more about the types of Addi Knitting Machines and what you can do with them, you can check out this article. So without further ado, let us now dive in to another knitting adventure!
Popular Addi Express Professional Machine Knitting Patterns
The pocket slippers pattern in this section was from Littlejohn's Yarn and the other four were selected from Yay for Yarn's video tutorials for Addi Express Pro machine knitting patterns.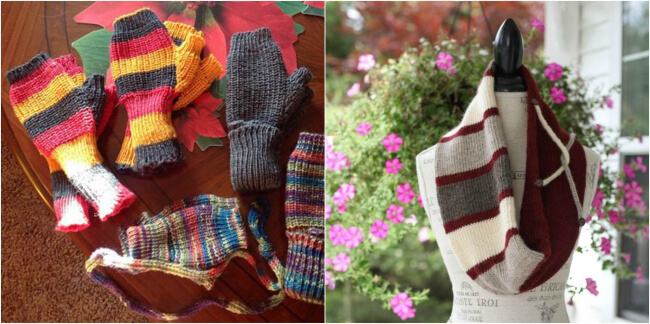 #1 Pocket Slippers
This pocket slippers pattern was originally created by Loretta Elmore. On the video tutorial in the next section by Alysha Littlejohn, she added a little of her own style on Loretta's original pattern. She used worsted weight yarns in two colors: Red Heart Super Saver (variegated) and Gray. The entire tube is 18.5 inches long with a total of 100 rows in which 65 of those are of variegated color and the remaining 35 is of the gray color.
How to Knit the Pocket Slippers Pattern
The first thing you need to do is create the tube using your Addi Express Pro knitting machine and then follow the video tutorial below on how to complete the pocket slippers piece.
VIDEO:
#2 Fingerless Gloves
This fingerless glove/mitten pattern features a long tail cast on with a ribbed cuff and clean finish edges. The ribbed cuff has a hole for the thumb part which you need to knit once you are done knitting the rest of the mitten using your Addi Express Pro machine. Also, the glove uses a bulky weight yarn and has 15 rows of ribbed cuff.
How to Knit the Fingerless Gloves Pattern
VIDEO:
#3 Cell Phone Wristlet
This is Addi Express Pro knitting machine pattern from Yay for Yarn uses worsted weight yarn. The cell phone sleeve is composed of 60 rows which fits an averaged-sized cell phone. For larger phones, you just have to make the cell phone sleeve longer by knitting more rows.
How to Knit the Cell Phone Wristlet Pattern
VIDEO:
#4 Mitten
This mitten pattern is similar to the fingerless gloves pattern above except that it is not fingerless. It also has a long tail cast on, a ribbed cuff, and a separate thumb all knitted using bulky weight yarn: Yarn Bee First Love in Thrill color. The ribbing for the mitten's cuff is knitted using 10 rows of regular Stockinette stitch made by the Addi Express Pro and purl ridges manually created from the unravelled columns of the piece.
How to Knit the Mitten Pattern
VIDEO:
#5 Two-Color Braided Infinity Scarf
This two-color braided infinity scarf pattern uses Bernat Sheep(ish) yarns in teal and magenta colors. These two sections are joined together using a braided knot and the ends of each knitted tube are grafted together instead of seamed. You need to use two balls (teal and magenta) in three ounce skeins worsted weight yarns with approximately 167 yards per ball for this project. It is composed of two knitted tubes for the two yarn colors and has 245 rows each tube.
How to Knit the Two-Color Braided Infinity Scarf
VIDEO:
Popular Addi Express King Size Machine Knitting Patterns
#1 Reversible Fair Isle Beanie by Margaret Olander
This fair isle beanie pattern is suggested for intermediate to advanced Addi Express King Size machine users. The fair isle technique is done by running two colors of yarn in one row making some stitches knitted in a single color and some in another color to make very beautiful patterns. In the video tutorial below, Margaret used pink, purple, and mustard yarn colors and created 130 rows in total for the beanie.
How to Knit the Reversible Fair Isle Beanie
VIDEO:
#2 Double-Layer Ribbed Brim Beanie by Melissa Sutcliffe
This pattern is recommended for intermediate users because ribbing on the Addi Express King Size machine can be tedious and frustrating. In Margaret Olander's version of Melissa's pattern in the video tutorial, Margaret used a very heavy American worsted weight yarn so hers came out longer. The Beanie has a gathered closure on each of the knitted tube's ends and has a total of 111 rows.
How to Knit the Double-Layer Ribbed Brim Beanie
VIDEO:
#3 Ralph Lauren Fringed Scarf by Melissa (The Crafty Ginger)
For this pattern, Melissa's inspiration was from one of the Ralph Lauren collection pieces from the Fall 2015 worth more than a thousand US dollars at that time. The piece looks like a scarf with very long fringes but Melissa's piece have shorter ones because the yarn she used is quite expensive. With Melissa's fringed scarf pattern, you can create a piece with an heirloom quality. Also, you need about a thousand yards of yarn to finish this project.
How to Knit Ralph Lauren Fringed Scarf
VIDEO:
#4 Crossover Cowl by Alysha Littlejohn
This cowl pattern is a very easy pattern and you can finish it in no time through your Addi Express King Size machine. The crossover cowl uses worsted weight yarn and has a total of 175 rows (35-inch tube). For this project, you need to do some crocheting on the ends of the tube to finish the cowl.
How to Knit the Crossover Cowl
VIDEO:
#5 Dragon Scale Scarf by Leighla Miharo
Leighla's dragon scale pattern uses thinner acrylic yarn and has five scales but you can make yours longer. The knitting process starts by casting on 3 stitches and then increase every other row so that the knitted fabric grows on one side. The scales are formed by crochet casting off 10 stitches and continue increasing the stitch again until the start of the next scale. The process is done repeatedly until you achieve your desired number of scales.
How to Knit the Dragon Scale Scarf
VIDEO:
Wrapping Up
Did you have fun with your newly-discovered knitting patterns for your Addi Express? We hope that you did just as how we had fun in selecting and sharing with you the top stitch patterns for your Addi Knitting machines. Feel free to check out our website for more blogs related to knitting and other circular knitting machines aside from the Addi Knitting machine.
Browse the best online geek pranks and trick your classmates and colleagues!