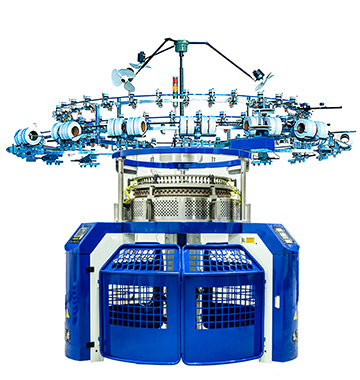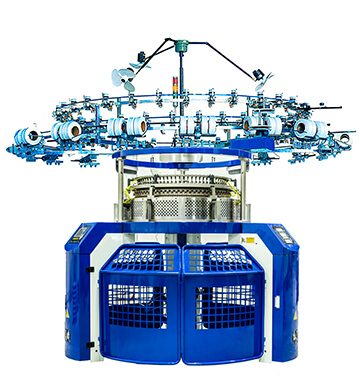 Single Jersey Computerized Jacquard Circular Knitting Machine
Varying jacquard patterns can be input and easily changed on the machine to keep up with the fashion trends. Gear and other main components are made in Taiwan or imported from Japan or Germany brands, making you to get high quality fabric through stable performance.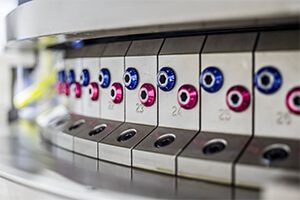 Unlimited jacquard-patterned fabrics
Adopting Sintelli's advanced computerized on-cylinder needle-picking system, this single electronic jacquard knitting machine can knit unrestricted jacquard-patterned fabric. The Japanese computerized needle selection system has three-position needle selection options - knit, tuck, and miss, allowing any complex fabric patterns to be converted via this jacquard preparation system into dedicated control commands. These commands will then be stored on the disk which controls the knitting machines, ensuring your machine can knit any patterns, as specified by the customer.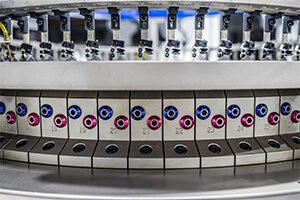 High-speed CAM system
The professionally-designed high-speed CAM system limits needle loss. Components for the drive system are made of superior-quality tempered materials. Gears and other main components are made in Taiwan and bearings are imported from Japan. All of these parts give our machine a high-precision drive system, stable performance and low running noise.
| Model | Cylinder Diameter | Machine Gauges | No. of Feeders | Speed |
| --- | --- | --- | --- | --- |
| SJCJ | 30''- 38'' | 12-30G | 60-72 F/Inch | 15-22 RPM |