Maquina circular de tejido de punto sencillo
[yoast-breadcrumb]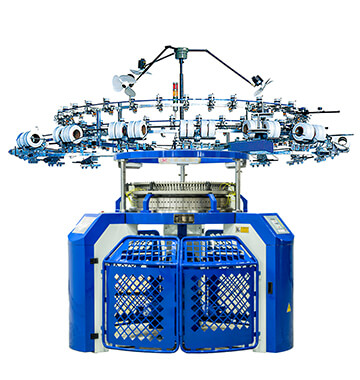 Maquina circular de tejido de punto sencillo
Designed with the central adjustment system to adjust fabrics in different levels of density easily and conveniently, normally equipped with different gauges of cylinders which is easy to alter and can meet the varying requirements in the knitting market.
Download Specifications
Inquire This Item
Transfer Capably
Flexibly and easily knits different fabrics through replacing some heart parts,high investment utilization
High Speed Technology
High speed technology to meet your demand on high production and fast return of investment
Central Adjustment System
Easily adjust fabric density, meet different demands of knitting market
Caracteristicas principales
Adopkndo el sello de 4 pistas de levas y equipado con levas de tejida, cargay flote. Con sistema central de puntada que permite ajustar el peso del tejido conveniente y rapidamente. El disefio especial del guiahilo hace la opcion de lycra mas competente. Ofreciendo un disefio ergonomico, el aro adicional de transferencia de ttrlazafacilita el monitoreo y transporte del hilo sin que la maquina toque el cuerpo del operario; al mismo tiempo, el sistema de guiahilos es mas libre y estable, satisfaciendo la operaci6n, demanda y tejida a altas velocidades.
De maquina circular de tejido de jersey seacillo a fleece de tres eabos y maquina de terry. Cambiando algunas partes, la maquina puede ser configurada para producir diferentes tejidos, tales como algod6n cubierto, malla de pique sencillo, fleece sencillo y tejido con pequeflas rayas.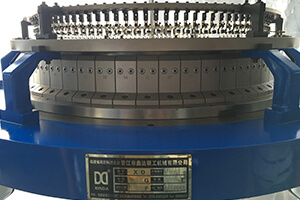 Flexible for knitting varying fabrics and Multi-functional models.
A machine with multipurpose functions, by replacing the heart parts, it can easily converted into 3-thread-fleece and terry machine and other machines.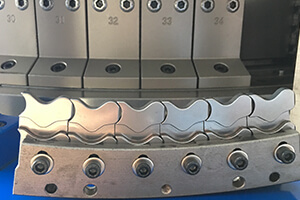 From single jersey knitting machine to 3-thread-fleece and terry machine
By changing a few parts, the machine can be configured to produce various different cloths, such as fiber covered cotton, single pique mesh, single fleece and small stripe cloth.
Technical Data Fabric Sample Equipment Technical Data
| Modelo | Diametro del cilindro | Galgas de las maquinas | Numero de alimentadores | Velocidad |
| --- | --- | --- | --- | --- |
| SJ3 | 16''-44'' | 16-36G | 3 F/Inch | 20-45 RPM |
| SJ4 | 26''-44'' | 18-30G | 4 F/Inch | 20-30 RPM |
| SJ6 | 26''-44'' | 20-30G | 6 F/Inch | 20-25 RPM |
Fabric Sample Application Area: Vest, T-shirt, Polo shirts, functional sportswear and underwear or seamless clothes(small size).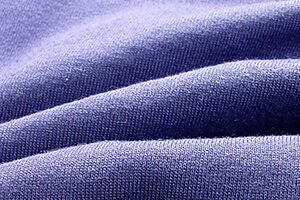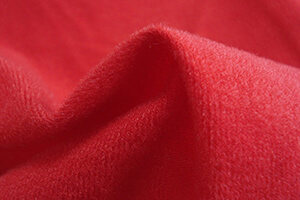 Equipment
| Equipment | STANDARD | OPTION A | OPTION B |
| --- | --- | --- | --- |
| Needle | Groz Beckert, Germany | Samsung, Korea | Yantex, Korea |
| Sinker (For single knit) | Kern Libbers, Germany | Samsung, Korea | Yantex, Korea |
| High Rigidity Special Design Robust Frame | SINTELLI | / | / |
| Zirconia Yarn Guide | SINTELLI | / | / |
| Yarn Feeder | SUN Feeder (B19) | SUN Feeder (B23K) | Global OR Memminger |
| Automatic oil Lubricator | Shengsong, Taiwan | Taiguan, Taiwan | Can be customized |
| Tube Creel | Triangle Creel | Creel with tube | / |
| 4 PCS Teeth Belt | MEGADYNE | / | / |
| Micro-computer control panel (3-shift counter and 4 digital RPM counter) | SINTELLI | Can be customized | / |
| Air System | Taiguan, Taiwan | Shengsong, Taiwan | Taishan |
| Inverter | TOSHIBA, Japan | Delta, Taiwan | Yolico, Japan |
| Motor | Teco, Taiwan | Sintelli | Delta, Taiwan |
| Take Down System | Fabric open take-down system | Sintelli Folding & Rolling take-down system | / |
| Cylinder | SINTELLI Japanese High Precision Alloy Steel material | / | / |
| Machine CAM setting | Single Jersey: 4 tracks Double Jersey: Dial 2 tracks, cylinder 4 tracks | Exchange cam parts for structions | / |
| Lycra feeder | SUN WAL5-4A/B | SUN WAL2-4A/B | Memminger |